ESP – ENG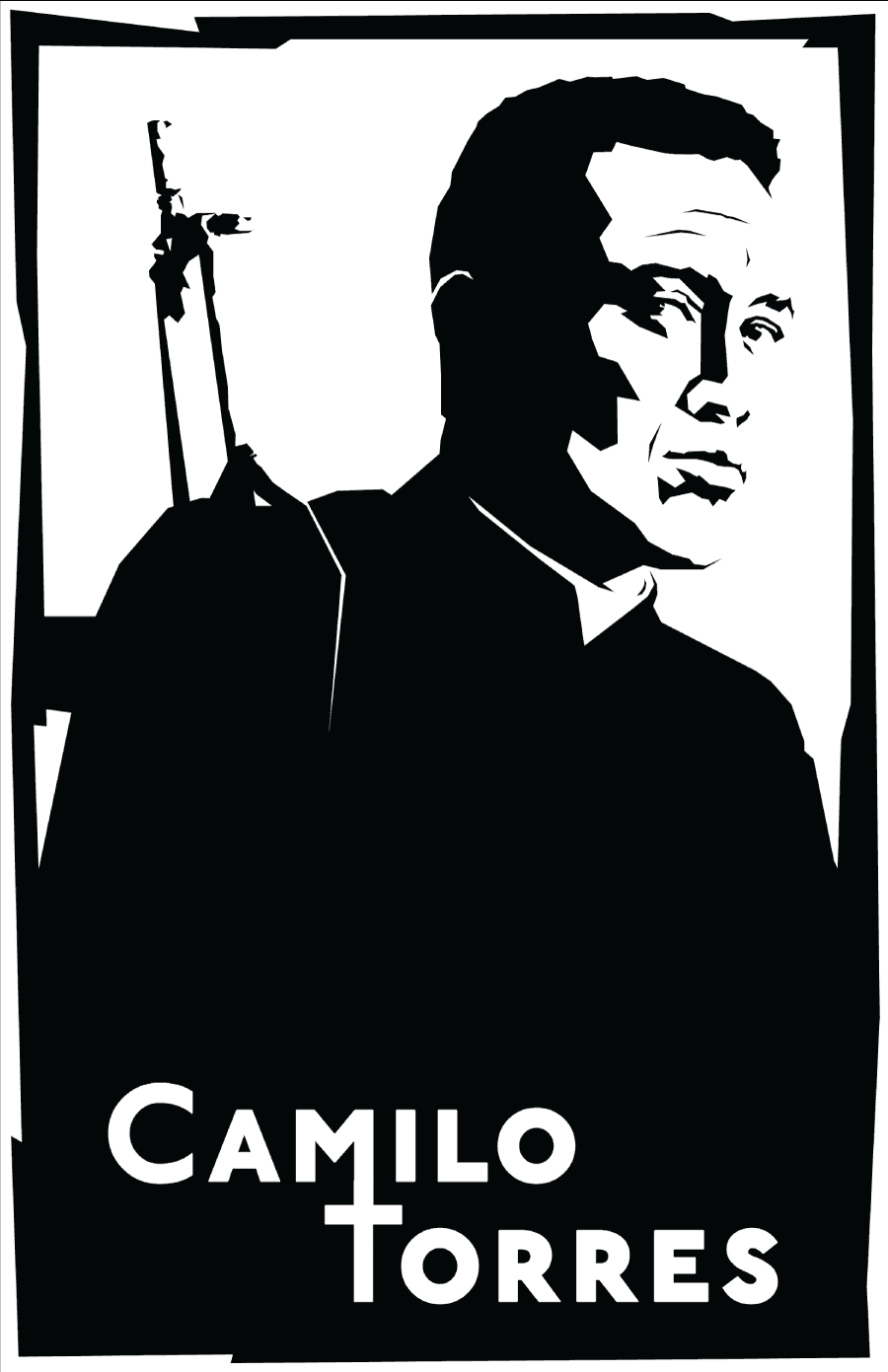 There is no nobler tradition than human sacrifice. I don't mean archaic barbaric rites. Or the history of mainstream religions clasping hands with tyrants and bartering lives. I'm referring to the heroic giving of oneself for the good of others. Camilo Torres Restrepo's life is emblematic of that kind of virtuosity.
Born to an aristocratic family on February 3, 1929, in Bogotá, Colombia, Torres eventually became a Roman Catholic priest and a sociologist. While serving on the academic staff at the National University of Colombia, he was involved in student and political movements. He gained a large following but was not popular with the government, or Church officials, who did not appreciate his politics.
Industrialization and economic development in Latin America in the 1940s and 1950s had financially benefited the Colombian upper and middle classes at the expense of the farmers and working class. Torres and other working clergy, priests and nuns, believed the Church should stand up for the impoverished. They combined Christian tenets of ministering to the poor with a Marxist critique of capitalism. This mix of socialism and religion is an example of what has become known as Liberation Theology. Torres taught that "People don't happen to be poor; their poverty is largely a product of the way society is organized."
This ideology would become so threatening to the exploiters of the working class that President Ronald Reagan's advisers made the case that, "American foreign policy must begin to counterattack (and not just react against) Liberation Theology." That was nearly fifteen years after Torres died.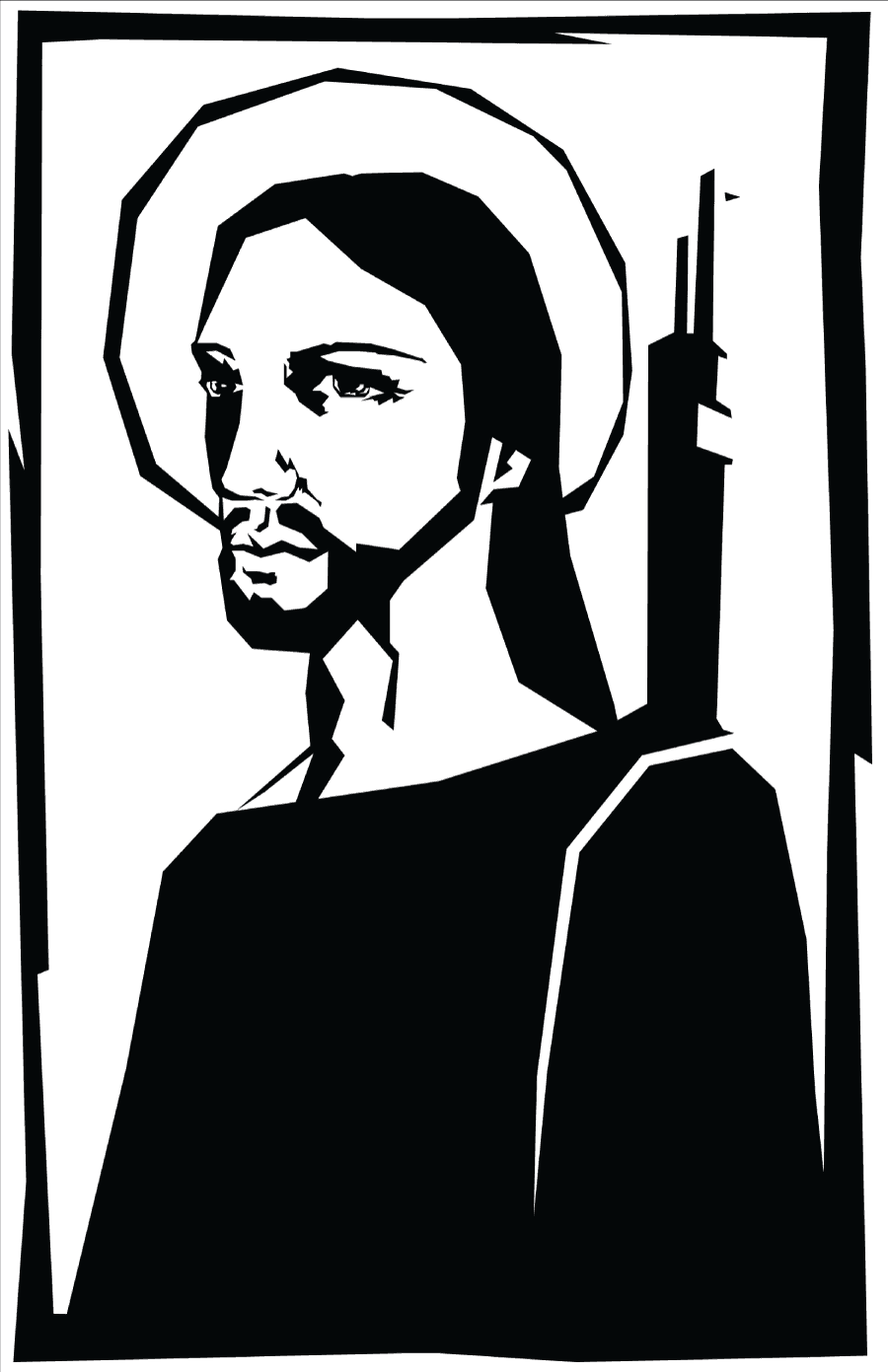 Single color adaptation of Alfredo Roostgards "Cristo Guerrillero".
In 1966 the Colombian government's repression of liberals and ill-treatment of the poor led Torres to the conclusion that peaceful means would never secure relief for the impoverished. He left his job and joined the National Liberation Army (ELN), a guerilla organization in conflict with the Colombian military. He provided spiritual assistance and inspiration, and they called him the "revolutionary priest." He once said, "I have taken off my cassock to be a truer priest."
In his first combat experience on February 15, 1966, Camilo Torres was killed. The ELN declared him an official martyr. In what may be his best-known quote Torres said, "If Jesus were alive today, He would be a guerillero." And who could argue? It was Jesus who said, "Greater love hath no man than this, that a man lay down his life for his friends." (John 15:13 King James Bible)
Camilo Torres' love for his fellow man, and the sacrifices he made, inspire generations. In the Dominican Republic (1970) a revolutionary group comprised of Catholic clergy, students and others, would take on the name CORECATO (Comando Revolucionario Camilo Torres). And in NYC in 2009, San Romero of the Americas Church started the Camilo Torres project, which works for social justice in the Washington Heights community.
The life and death of Camilo Torres have impacted countless in the struggle against oppression. His example reifies a poignant truth: While there continue to be those who are willing to sacrifice others, the best of us are willing to sacrifice FOR others.
Text: R. Ya'iyr Carter.* Artwork: Luis Cario.
Utopix has an ongoing collaboration with the Imprisoned Abolitionist Collective (IAC) to produce content on past and present struggles to be distributed in US prisons. The IAC is a group of incarcerated people dedicated to exposing and fighting against the oppressive prison industrial complex in the US.
*R. Ya'iyr Carter is an organizer and activist imprisoned in Pennsylvania, U.S.A. He writes to inspire and elevate consciousness.
Comparte